By joining the Antique and Classic Boat Society and the Michigan Chapter, a variety of new experiences become available to you. Each year we host the "Where It All Began" boat show at the original Chris Craft Plant in Algonac, Michigan. Although the show is open to the public, on Saturday there are a number of pre and post show activities exclusive to chapter members and their guests.
Boat ownership is not necessary to enjoy boating with the Chapter. Most of our members, who participate with their boats, enjoy sharing their boats with others who may not have a boat at an event. Throughout the year we have meetings open to all members, workshops, cruises etc.
As a Chapter, we also host shows in Lexington and Port Sanilac, Michigan. Along with shows, the Michigan Chapter has many other opportunities to use our boats and gather with fellow vintage boat enthusiasts.
We encourage you to join our chapter to enhance your vintage boating experience. Please feel free to reach to us with any questions, clarification or comments you may have. Stop by one of our events and introduce yourself. We'd love to meet you!
Michigan Chapter ACBS
A.C.B.S. Member Benefits
Quarterly issues of the national publication, "THE RUDDER" containing interesting articles on Chapter events, classic and antique boats, restoration articles and much more boating related content.
Access to the members section of the ACBS website, containing member and boat listings, a "who's who" of restoration shops and suppliers of classic boating related equipment and supplies.
An on line video library on preservation and restoration topics and a treasure trove of other information.
A 20% discount on Bob Speltz's Real Runabout series of books. The definitive series on wooden boats, as well as, discounts on other products and services related to antique and classic boating.
Information on and the ability to attend the ACBS Annual and Quarterly Meetings and Boat Shows.
A free ad in the Rudder and website trading dock.
Access to the national ACBS Ship Stores.
A.C.B.S. Michigan Chapter Member Benefits
Subscription to the chapters Tri-Annual Magazine, "THE CHANNEL MARKER" an award winning full color magazine highlighting chapter members, boats, coming events, as well as, informative articles on related topics.
Participation in chapter activities including our annual meeting, swap meets, seminars, cruises (whether you bring your own boat or hitch a ride with another member) and our boat shows, as well as, other related activities.
You belong to an organization of almost 400 members, all with similar interests in the use, restoration and preservation of antique and classic watercraft of all types.
Access to a huge local base of knowledge and experience on boating issues through your fellow members.
Discounts on registration fees for Chapter boat shows.
Chapter Facebook page, Chapter website, ads in the Trading Dock and more.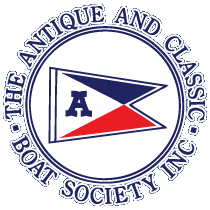 Join ACBS
Become a member of the Michigan Chapter! Click here!